An escape to the countryside
The Granary
Bed & Breakfast and Self Catering Cottage
The Granary, Lower Farm Road, Boughton Monchelsea Maidstone Kent ME17 4DD
About Us
The Granary is a beautiful converted Victorian farm building
With exposed beams and many other unique features offering Bed and Breakfast and Self Catering Accomodation. All of the bedrooms are comfortably furnished, with quality beds ensuring a restful night"s sleep. The en suite showers are of the highest quality.
Bed and Breakfast guests are encouraged to use the spacious TV lounge and also the pretty courtyard garden, an ideal spot to partake a welcoming cup of tea in the afternoon. We also now offer a fully independent self catering accomodation in the Maidstone area, called May's Cottage.
Whatever your interest, you are sure of a warm welcome and a comfortable stay, with plenty to do, or why not just sit back and do nothing but enjoy some of the most beautiful scenery in England.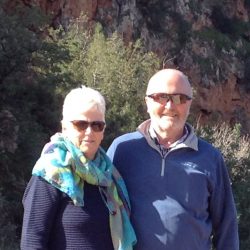 Breakfasts Included
Applicable to Bed & Breakfast Occupants only. The Cottage is self catering.
Daily Seasonal Breakfast
Hearty English Breakfast, Salmon and Scrambled Eggs, Poached Eggs and Cereals galore. The Eggs come from the farm itself, so are as fresh as can be.
Coffee, Tea, Fruit Juice & Water
All included with breakfast and water and hot drink making facilities in rooms.
Lovely country cottage, ideally located for us. Well equipped. Will definitely be going back.
Lisa H.
Sehr gut ausgestattes Cottage mit zwei riesigen Bädern en suite, einer tollen Terrasse mit Blick auf den schön angelegten Garten und Parkplätzen direkt vor der Tür. Wir hatten einen wunderschönen Aufenthalt und die Besitzer waren sehr freundlich und hilfsbereit.
Pierre m.
Excellent rapport qualité prix. Endroit calme, cottage très propre et très agréable. Bon accueil et bon service. A recommander sans réserves.
Maureen A.
Wonderful little cottage in the middle of the countryside. So quite and peaceful. The cottage has everything you could possibly need, very well equipped. The beds are comfy and the duvet was light for the summer, which is a massive bonus.
Mo A.
We have stayed here before, it's a lovely cosy cottage in a lovely rural setting. Will definitely stay again too
Tim W.
Spent long weekend here with my partner and young son. Cottage very clean and well set out. Two good size bedrooms each with its own large wet room which were great. Lovely firm beds too – we slept really well. Good selection of cooking utensils which helps when you are self catering! Pint of milk in the fridge on arrival was very welcome. Easy to find with the sat nav. Lots to do in the local area. Would definitely return.
Katie S.
The Granary is situated along a quiet country lane.
It is however convenient for exploring the many National Trust properties in Kent and Sussex. Such as Sissinghurst, Bodium and Scotney castles, Knole and Ightam Moat. Leeds castle is only 8 miles away. We are within easy reach of Canterbury, Rochester and Dover, and  about one hour drive from the Channel tunnel and Ferry to France.
London is only one hour by train from Staplehurst station.
Lorem ipsum dolor sit amet, consectetur adipiscing elit, sed do eiusmod tempor incididunt ut labore et dolore magna aliqua. Ut enim ad minim veniam, quis nostrud exercitation ullamco laboris nisi ut aliquip ex ea commodo consequat. Dominic Simpson
Lorem ipsum dolor sit amet, consectetur adipiscing elit, sed do eiusmod tempor incididunt ut labore et dolore magna aliqua. Ut enim ad minim veniam, quis nostrud exercitation ullamco laboris nisi ut aliquip ex ea commodo consequat. David Thorton
Lorem ipsum dolor sit amet, consectetur adipiscing elit, sed do eiusmod tempor incididunt ut labore et dolore magna aliqua. Ut enim ad minim veniam, quis nostrud exercitation ullamco laboris nisi ut aliquip ex ea commodo consequat. Brandy Zimmer
Lorem ipsum dolor sit amet, consectetur adipiscing elit, sed do eiusmod tempor incididunt ut labore et dolore magna aliqua. Ut enim ad minim veniam, quis nostrud exercitation ullamco laboris nisi ut aliquip ex ea commodo consequat. Steve Dawson
The Granary, Lower Farm Road, Boughton Monchelsea Maidstone Kent ME17 4DD